The Chesty Puller Chapter (OH-2) of the Women Marines Association
Welcome to the Web Home of WMA's Chesty Pull Chapter (OH-2).
About the Women Marines Association
The Women Marines Association (WMA) is a non-profit veterans association comprised of women who have served or are serving honorably in the United States Marine Corps' regular or reserve components. It is the only veterans association for and about Women Marines.
WMA was established in Denver, Colorado in 1960 with the purpose of ensuring that the history of women Marines would continue to be told and passed on to new generations of Marines. WMA members enjoy renewing old friendships and creating new ones through correspondence and gatherings -- to include the biennial convention -- with other members. WMA is a member of the Navy-Marine Corps Council and the National Marine Corps Council; a liaison with Headquarters, Marine Corps is also maintained.
About WMA's Chesty Puller Chapter (OH-2)
Our chapter is among the newest WMA chapters in the country -- it was officially started on Jan. 1, 2005. From a core five charter members, the chapter has steadily increased its ranks. Our chapter is concentrated in the greater Akron/Canton area, but our members come from other parts of Ohio and several other states as well. Our members represent several eras of service in the Corps, from the Women's Reserves to the present. We hold quarterly meetings, and participate in numerous Marine Corps and veterans-related events during the rest of the year.
To find out more about who we are, what we do, and how you can become one of us, please view our Official Mission, Chapter News, and Contact and Membership pages.
Enjoy your visit to our website. Semper Fidelis!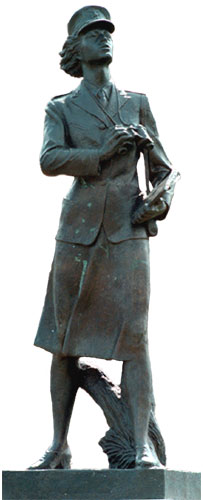 The statue of Molly Marine, created by sculptor Enrique Alvarez, is the first statue of a female service woman in the United States. The original statue, located at the corner of Elks Place and Canal Street in New Orleans, was dedicated on Nov. 10, 1943 to the women of the Marine Corps. Department of Defense (USMC) photo.
MUSIC: "The Marines Hymn" (traditional/slow version) is performed by "The President's Own" U.S. Marine Band and is available for free download from the website www.marineband.usmc.mil.