The Chesty Puller Chapter (OH-2) of the Women Marines Association
Historical Photos
Uniforms, training requirements and duty assignments may have changed over the years, but the common thread that ties one generation of women Marines to the next is our determination to serve and our esprit de corps.
Take a trip down Memory Lane with the trailblazing women Marines pictured below!
NOTE: "Sea Soldiers" is performed by "The President's Own" U.S. Marine Band and is available for free download from www.marineband.usmc.mil.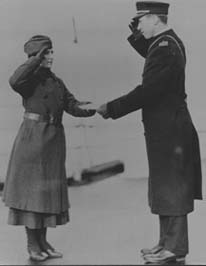 Cpl Martha Wilchinski, one of the "Marinettes" who enlisted during World War I to support America's war effort, served as an orderly to Navy CDR W.C. Anderson. Department of Defense Photo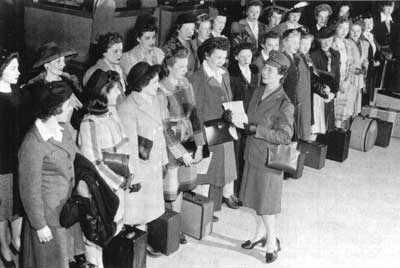 The first WR recruits to be shipped to New York for training at Hunter College receive instructions from 1stLt Helen Perrell at Philadelphia's 30th Street Station. Department of Defense Photo (USMC) 147-81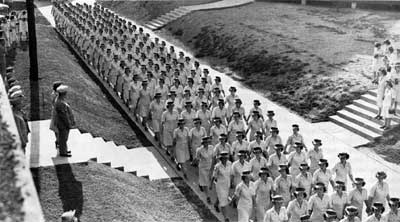 Members of the 2d Headquarters Battalion at Henderson Hall pass in review for BGen Littleton W. T. Waller, Jr., the Director of Personnel at Headquarters, Marine Corps. With Gen Waller is Maj Martrese R. Ferguson, battalion commander. Department of Defense Photo (USMC) 13470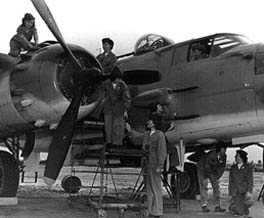 Crew Chief TSgt Selma "Rusty" Olson, standing below the propeller, directs a WR repair crew servicing a North American Mitchell B-25 bomber at Cherry Point in March 1945. In the war, 40 percent of the women Marines held jobs in aviation. Department of Defense Photo (USMC) 8927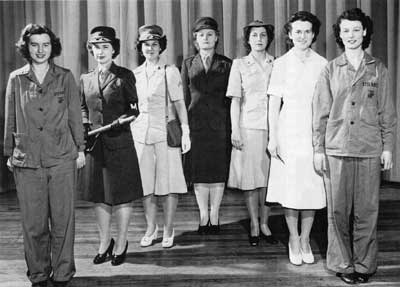 For a publicity photograph, the women of Company H, 2d Headquarters Battalion, Henderson Hall, model the various work and dress uniforms worn by women Marines during the course of World War II. From left are PFC Florence Miller, Cpl Lois Koester, Cpl Carol Harding, Sgt Violet Salela, Cpl Grace Steinmetz, Cpl Rose Mazur, and PFC Mary Swiderski. Department of Defense Photo (USMC) 13061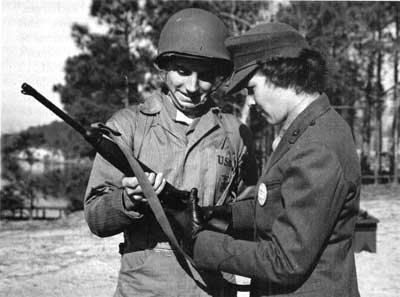 WR recruit Mary C. Harris learns first-hand about a carbine from GySgt Daniel Carroll, a member of Edson's Raiders recently returned from the Southwest Pacific WRs were the only military women to receive combat training during boot camp. Department of Defense Photo (USMC) 6180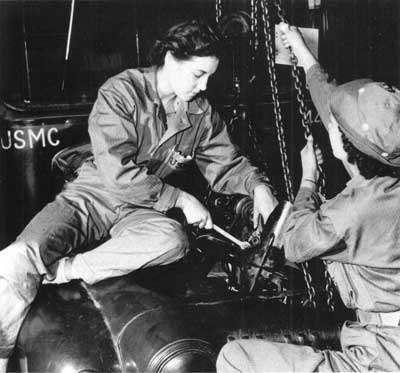 Cpl Essie Lucas and PFC Betty J. Ayers, graduates of Motor Transport School, replace a reconditioned engine at Camp Lejeune's post garage in 1943. Lucas was commissioned six years later in the first postwar Women's Officer Training Class. Department of Defense Photo (USMC) 6265
Source: "Free a Marine to Fight: Women Marines in World War II" by Col Mary V. Stremlow, USMCR (Ret.). http://www.nps.gov/wapa/indepth/extContent/usmc/pcn-190-003129-00/sec11.htm