The Chesty Puller Chapter (OH-2) of the Women Marines Association
Our Ship's Store Catalog
You are welcome to browse through our Ship's Store items and make a purchase. Sales of these items help us fund our numerous programs supporting area veterans and youth programs, such as care package mailings to deployed troops, Marine Corps Junior ROTC scholarships, and more. For more information, please contact the webmaster, Jenny Jenkins, at jennifer.a.jenkins@live.com.
Woman Marine Vehicle Magnet
$7 each (includes shipping and handling). Measures 3.75" 8". "WOMAN MARINE" with Marine Corps eagle, globe and anchor; blue with red trim. Contact Ellen at leidyrun@aol.com.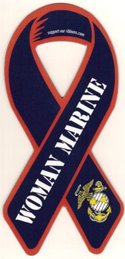 Marines Tote Bag
$10 for one or $18 for two (includes S&H). Measures 13" x 17". Small front zipper picket for electronics and smaller items; metal grommets reinforce the corners; place to attach headphones. Contact Jenny at OH2@womenmarines.org.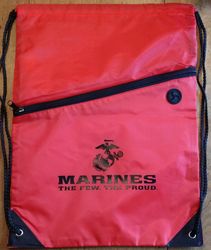 USMC Cutting Board
$16 each (plus $14 S&H). Measures 16" x 11.5". USMC eagle, globe and anchor; solid cutting surface; two color options (white / brown). Contact Jenny at oh2@womenmarines.org.