The Chesty Puller Chapter (OH-2) of the Women Marines Association
Chapter Photos (2005 - 2008)
The pictures that follow give a glimpse of just a fraction of the events and activities that our busy chapter members have been involved with over the past few years. Feel free to take a moment to see where our WMA duties have taken us!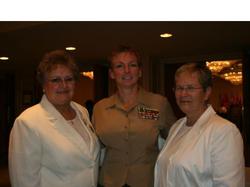 Past President Paula Sarlis with SSgt Diane Durden and Ellen Leidy at the induction ceremony (Ellen is now our regional director). Ellen and Diane were just a couple of several WMA OH-2 members who made it to WMA's biennial convention in Houston (August 2008)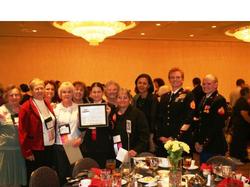 WMA OH-2 takes a group photo, including two active duty Marines who sat with our group: Cpl Bucklew (far right), from 29 Palms, and Sgt Gandy (center), who is currently serving in Iraq and was flown in for the WMA convention. What a dazzling group!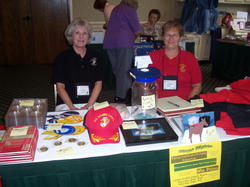 Numerous items (see our Ship's Store page) were sold to attendees of the WMA National Convention at the Galt House Hotel in Louisville, Kentucky (September 2006). One of the rooms at th Galt House was temporarily renamed the "Tack Room", and Lois and Ellen made sure that OH-2 was well-represented.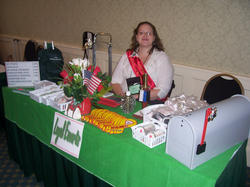 Loyal Escort Tabitha also spent some hours in the Tack Room, assisting with fundraising efforts for the WMA auxiliary.
Nancy, Elva, Loyal Escort Tabitha, Ellen and Lois hosted a bridal shower for Sharon (holding flowers).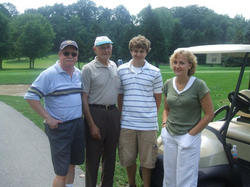 Jenny and her dad were among several dozen golfers who participated in the 1st Annual Jeff Boskovitch Memorial Golf Outing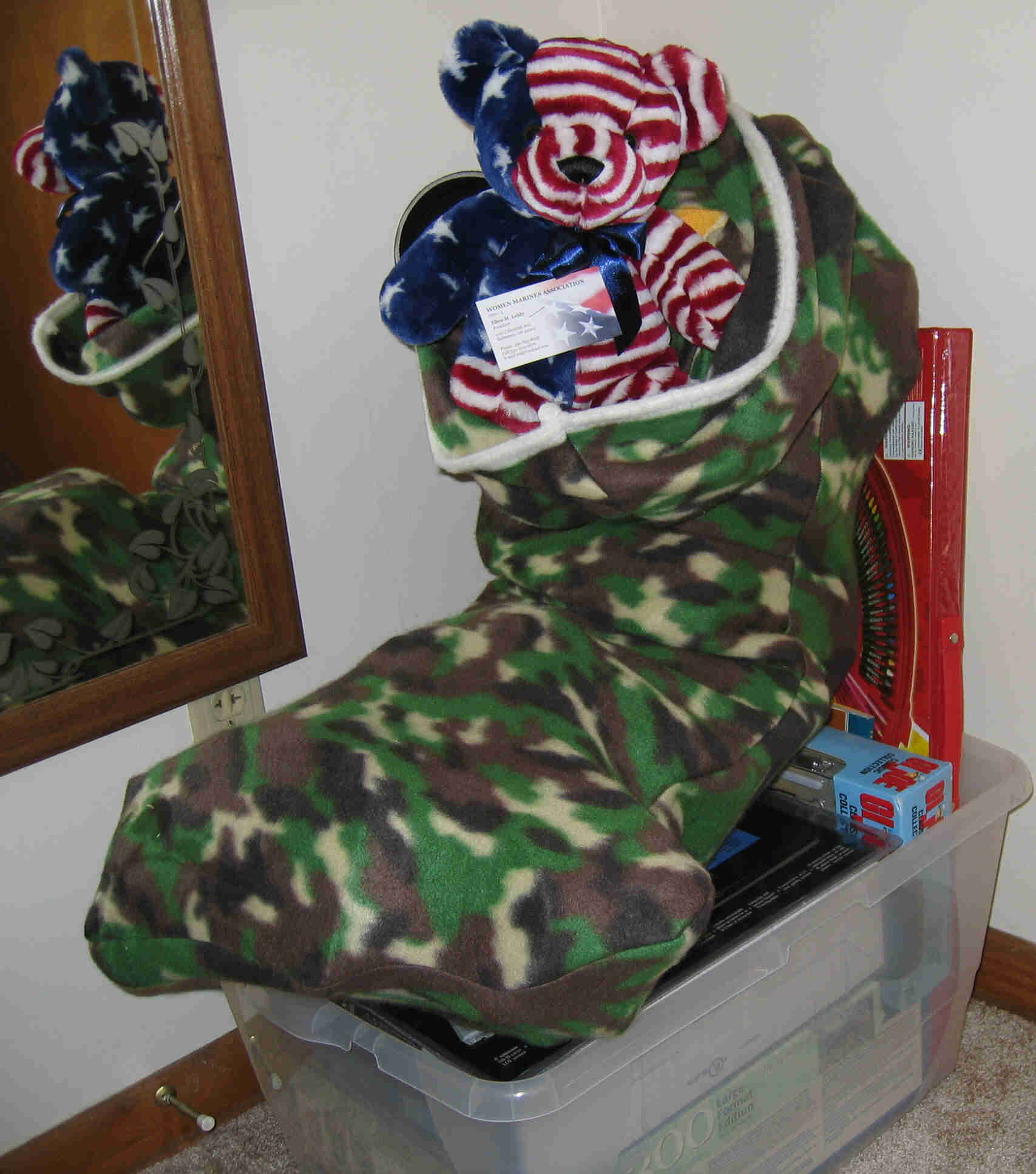 The chapter's Stocking of Support raffle raised $1,200, which funded the shipment of more than 200 stockings made by a chapter member and filled with morale and comfort items to troops deployed to Iraq.
Women Marines and Loyal Escorts prepare to embark on yet another parade.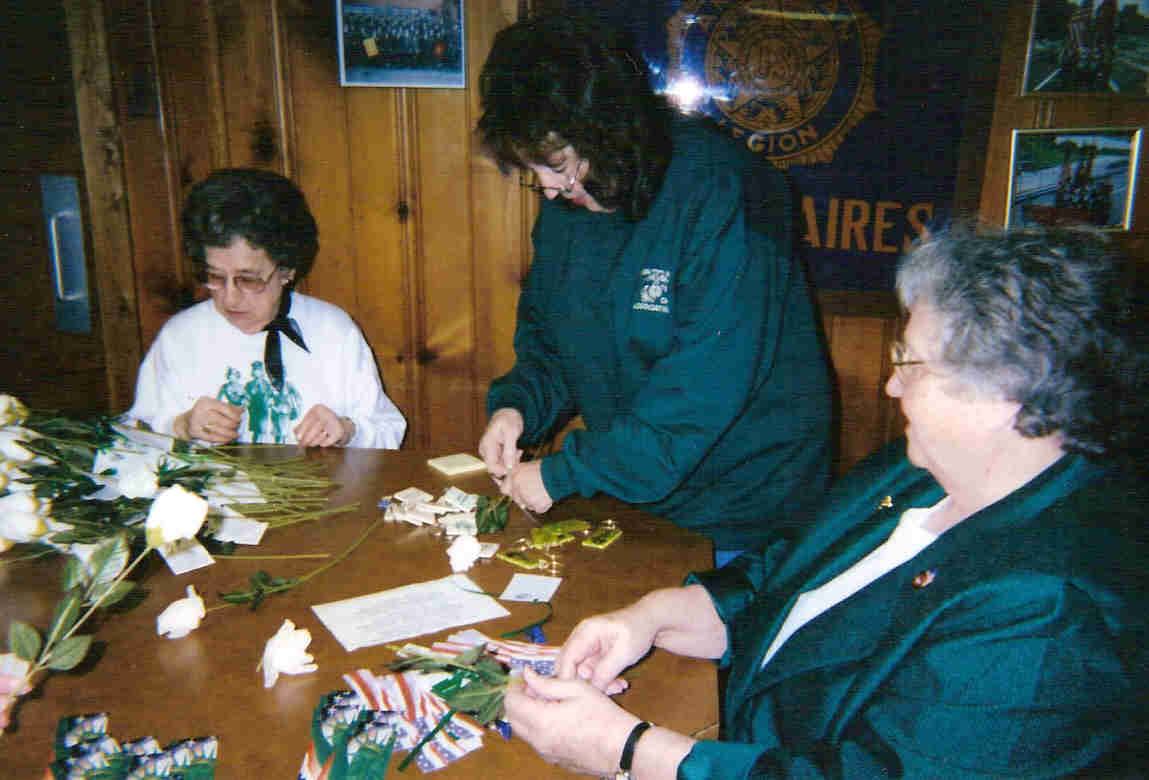 Chapter members present white roses to the families of women Marines who have answered the call to stand gate duty on "heaven's scenes".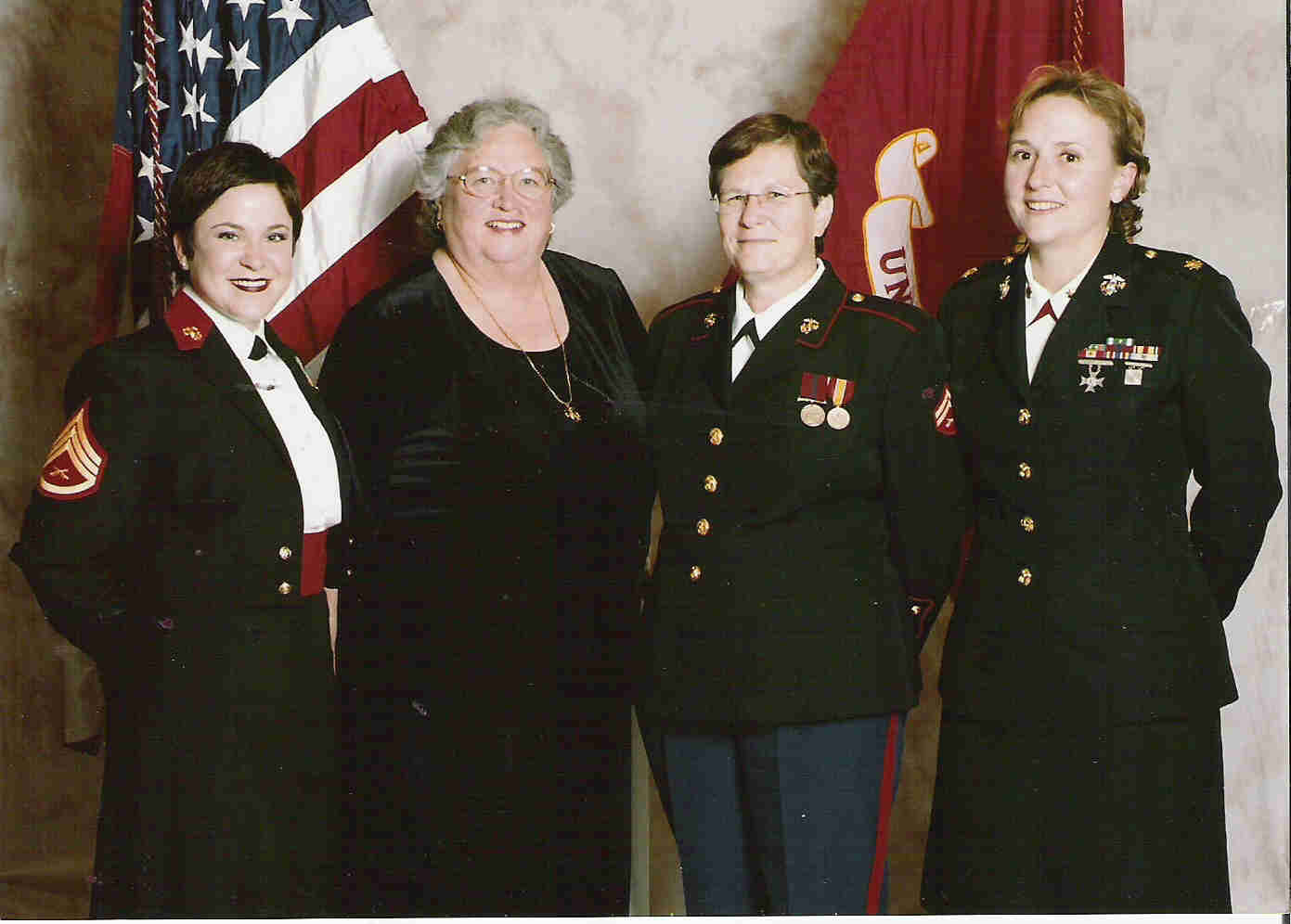 Kelly, Elva, Ellen and Jenny attended the 2005 USMC Birthday Ball with Weapons Company, 3rd Battalion 25th Marines.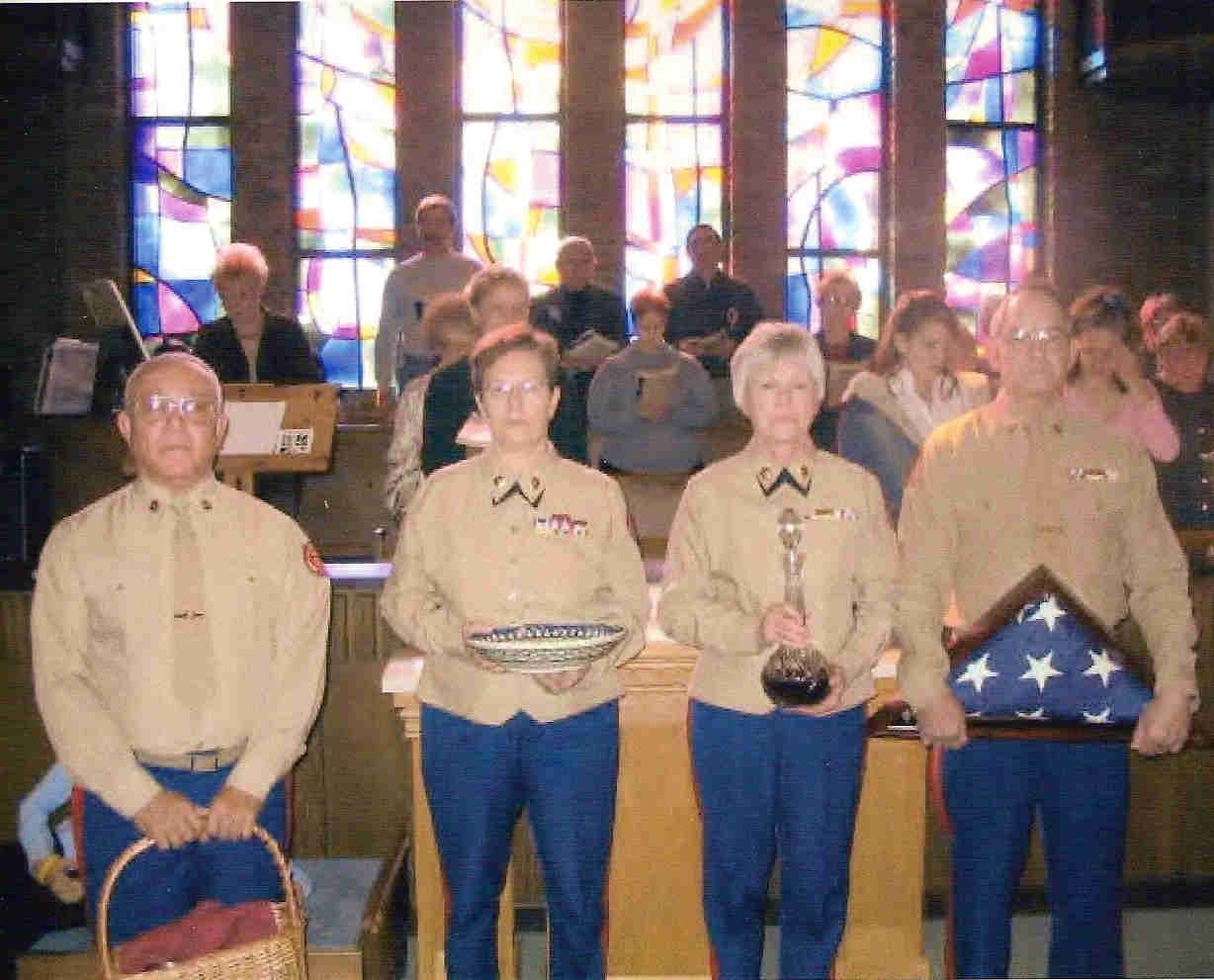 Loyal Escort Dennis, Ellen and Lois participated in a color guard at an event honoring veterans at Prince of Peace Church.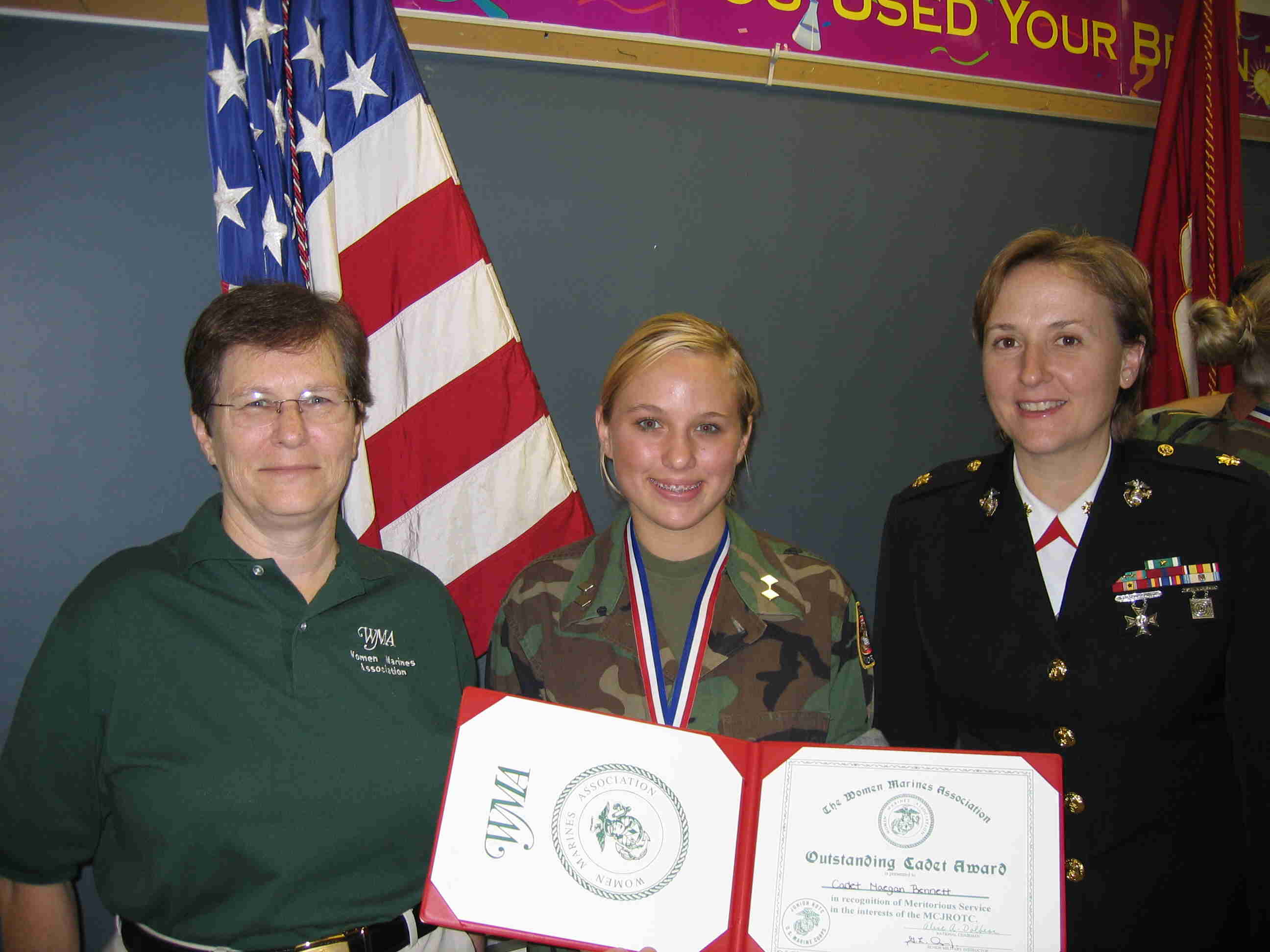 Ellen and Jenny presented the Women Marine Association's Outstanding Cadet Award to Marine Corps Junior ROTC Cadet Meagan Bennett at East High School in Akron.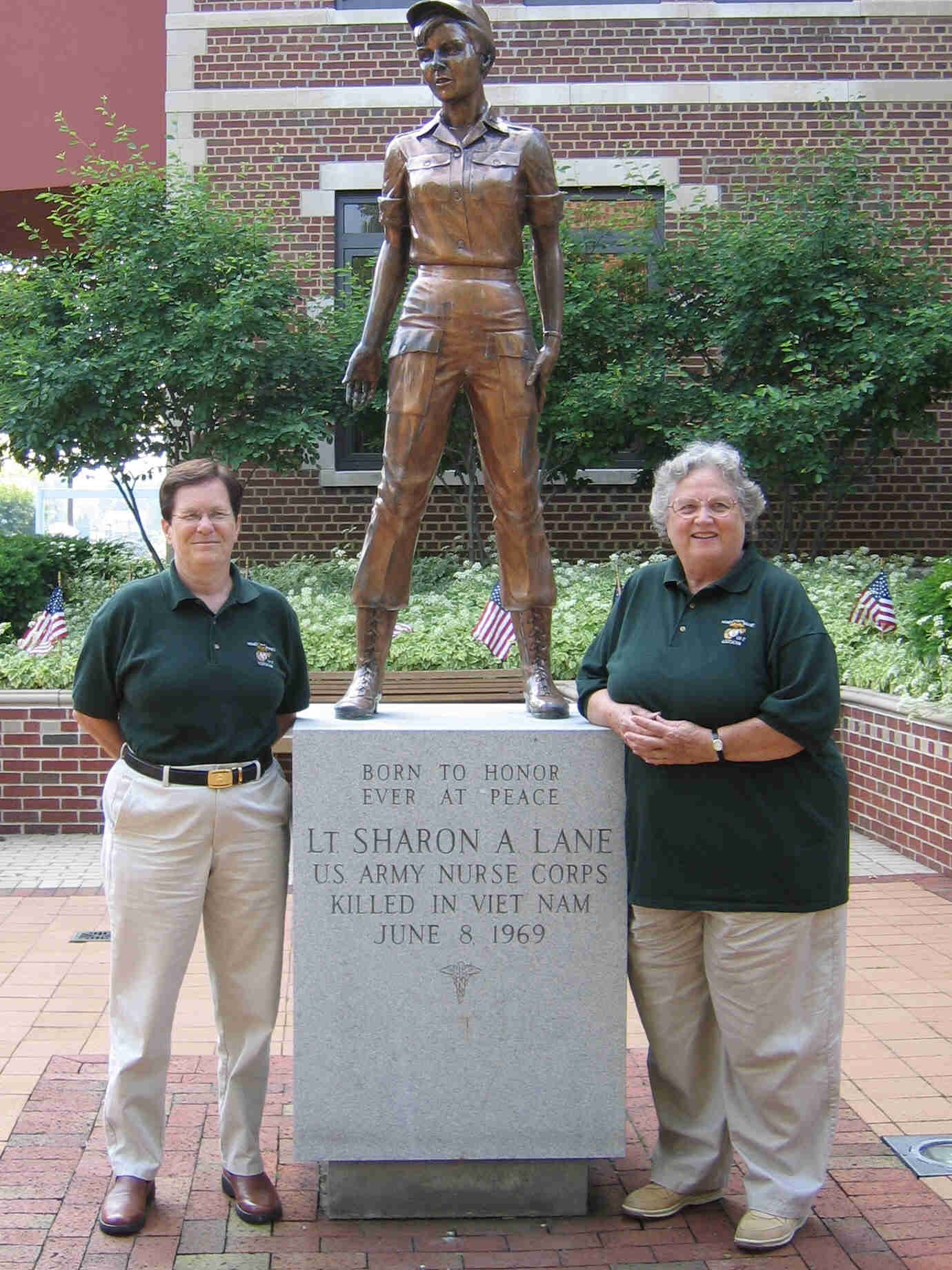 Ellen and Elva attended the dedication of the Sharon Lane Library in Canton.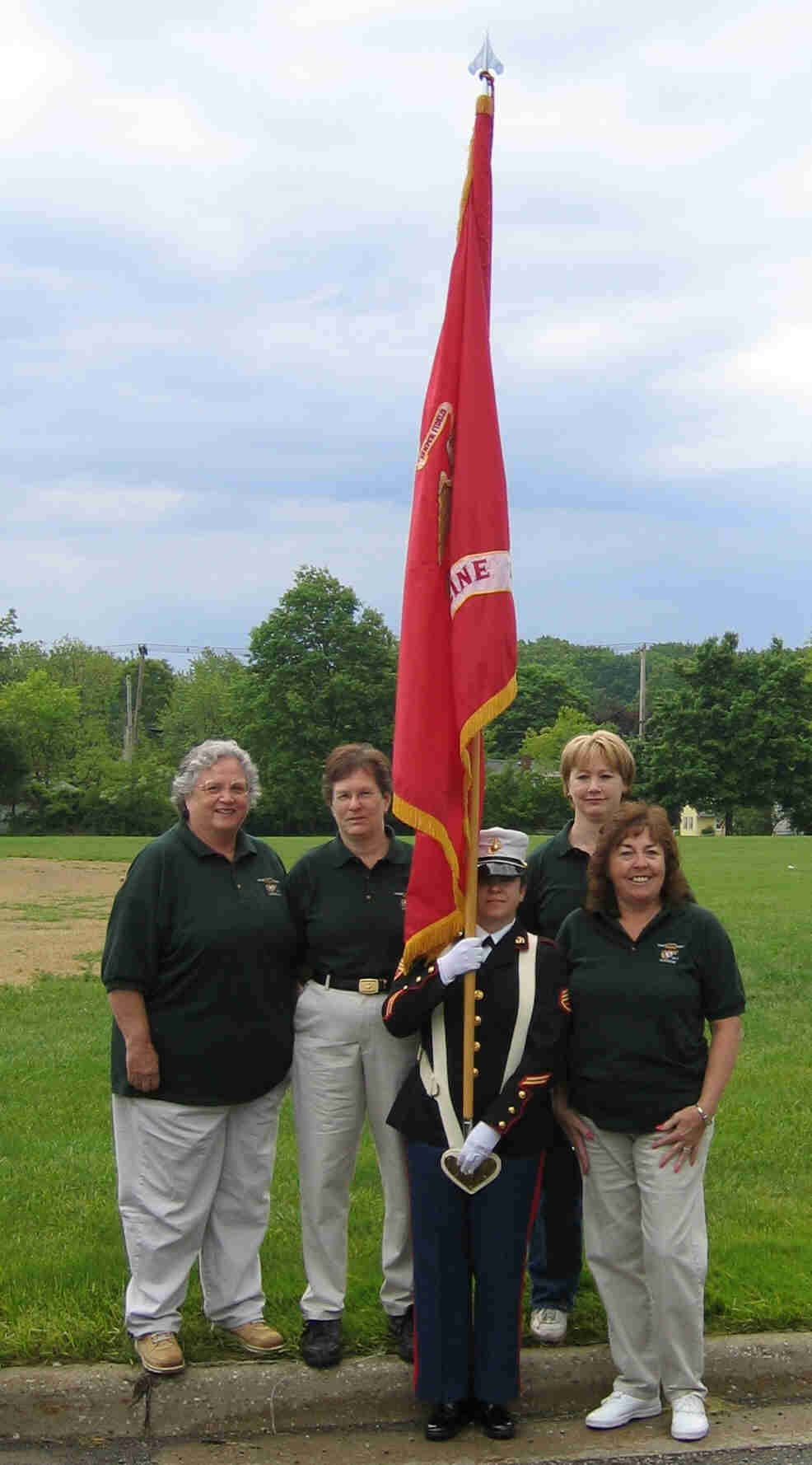 WMA OH-2 had representation at Cuyahoga Fall's 2005 Memorial Day Parade. Kelly (holding the Marine colors) marched with the site support staff for Weapons Company, 3rd Battalion 25th Marines; also on hand were (pictured, left-right) Ellen, Sharon, Nancy, Elva and (not pictured) Jenny and Loyal Escorts George, Katie, Kimmy and Christian.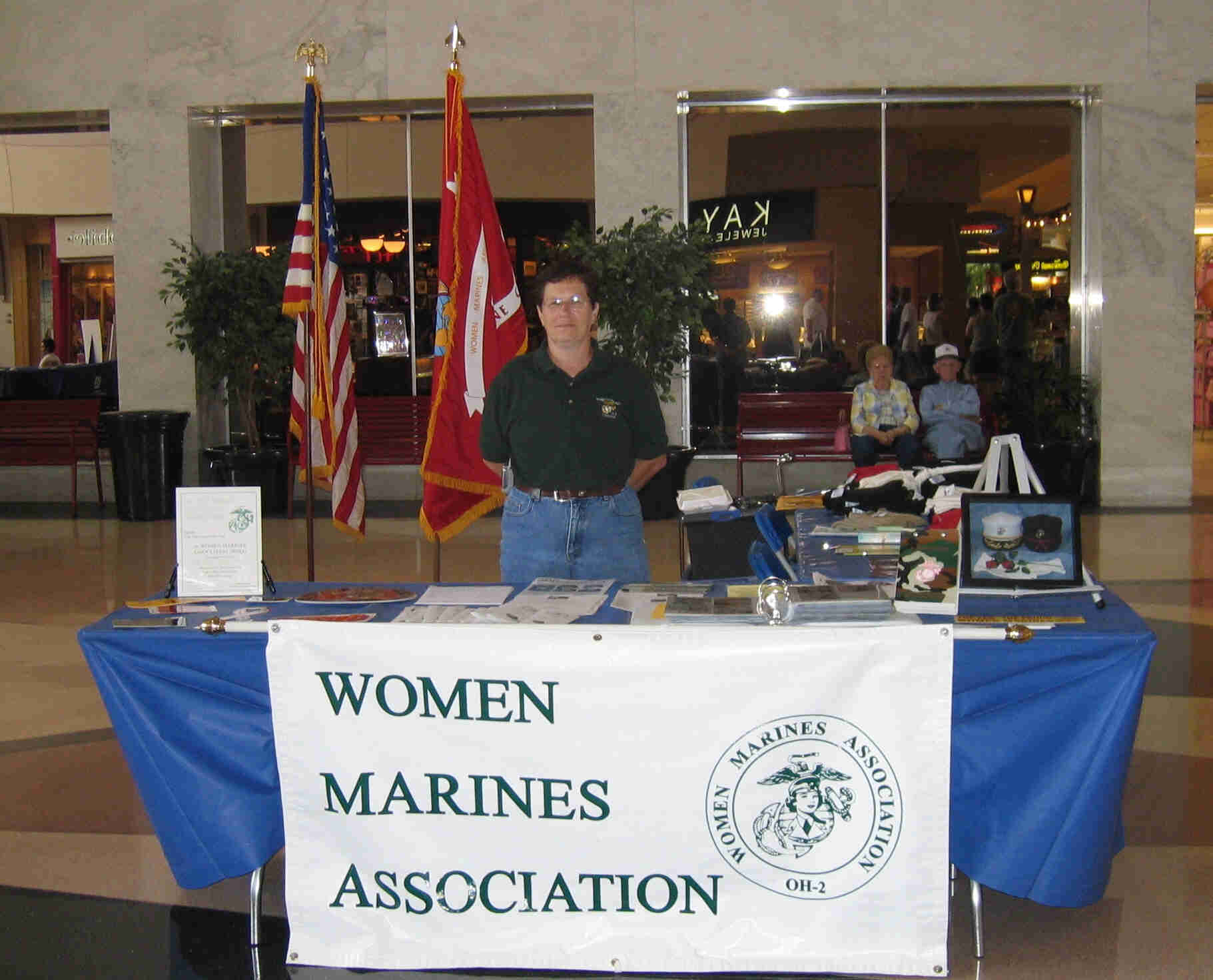 Ellen provided information on WMA to shoppers at an Akron area mall over Veterans Day weekend.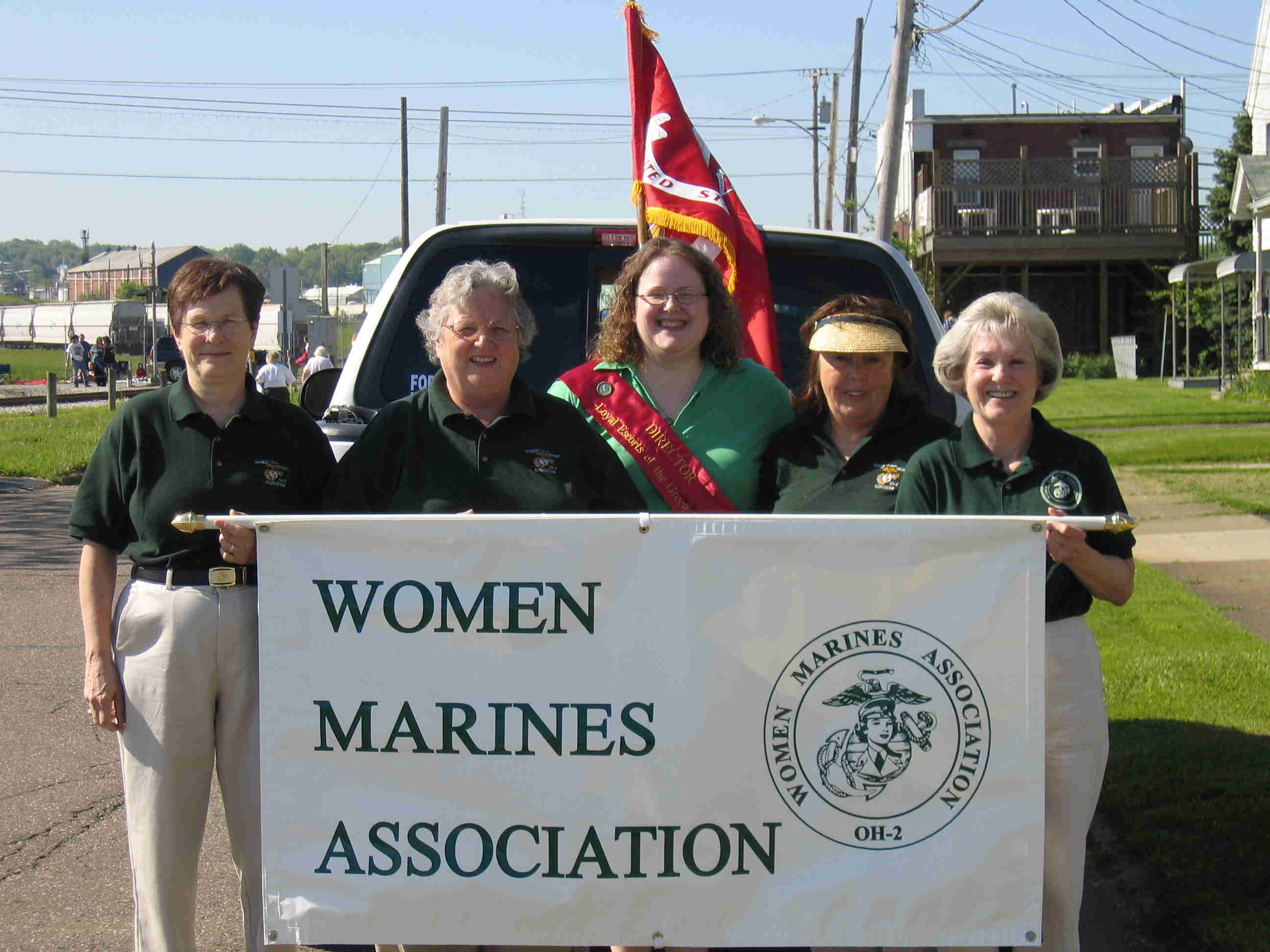 The sun shone on Ellen, Elva, Loyal Escort Tabitha, Sharon and Lois for the chapter's first parade. Barberton's Cherry Blossom Parade took place on May 21, 2005.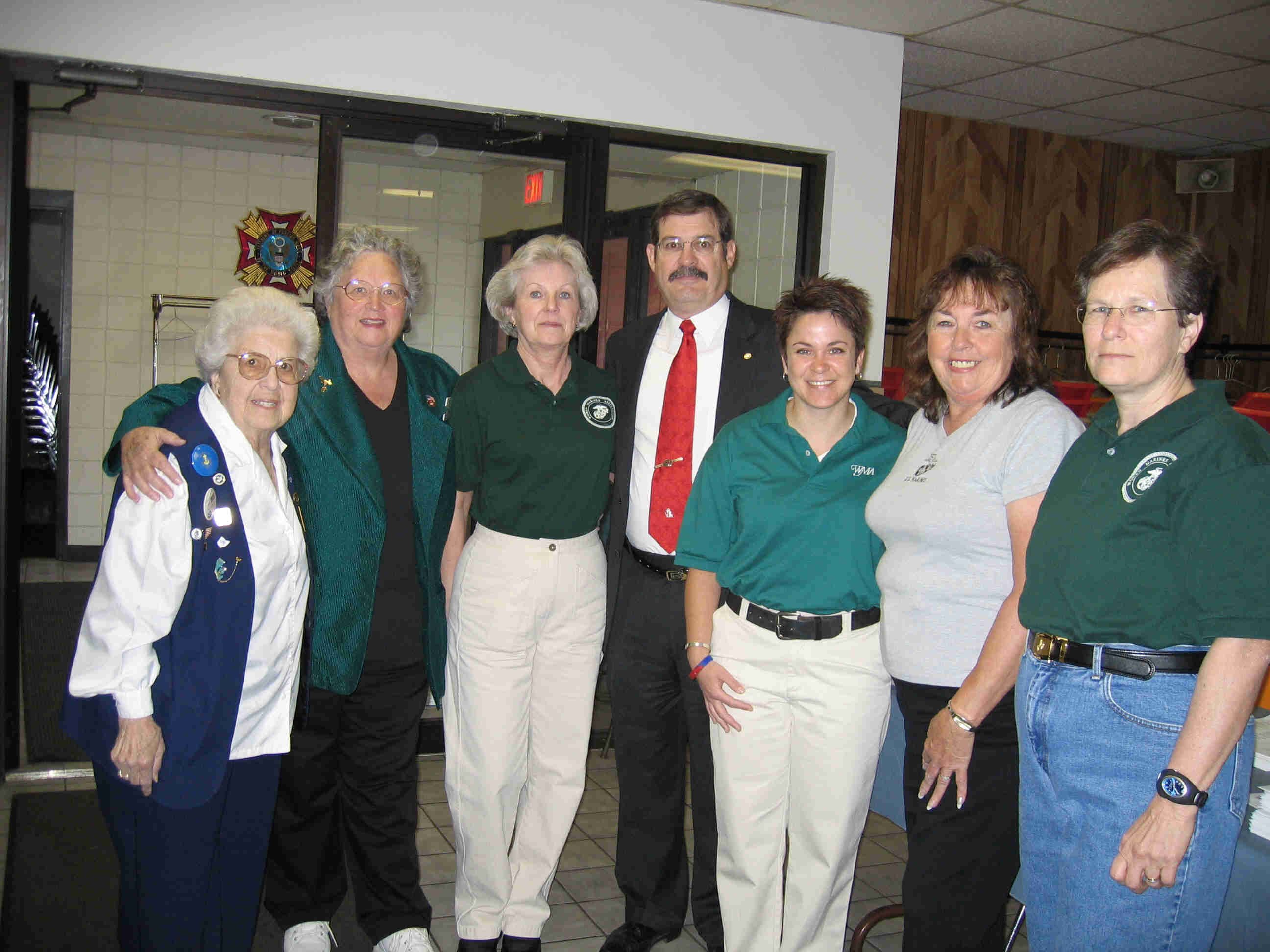 Elva, Lois, Kelly, Sharon and Ellen (pictured) and Loyal Escort Tabitha helped out with the Women's Health Forum in Akron in May 2005.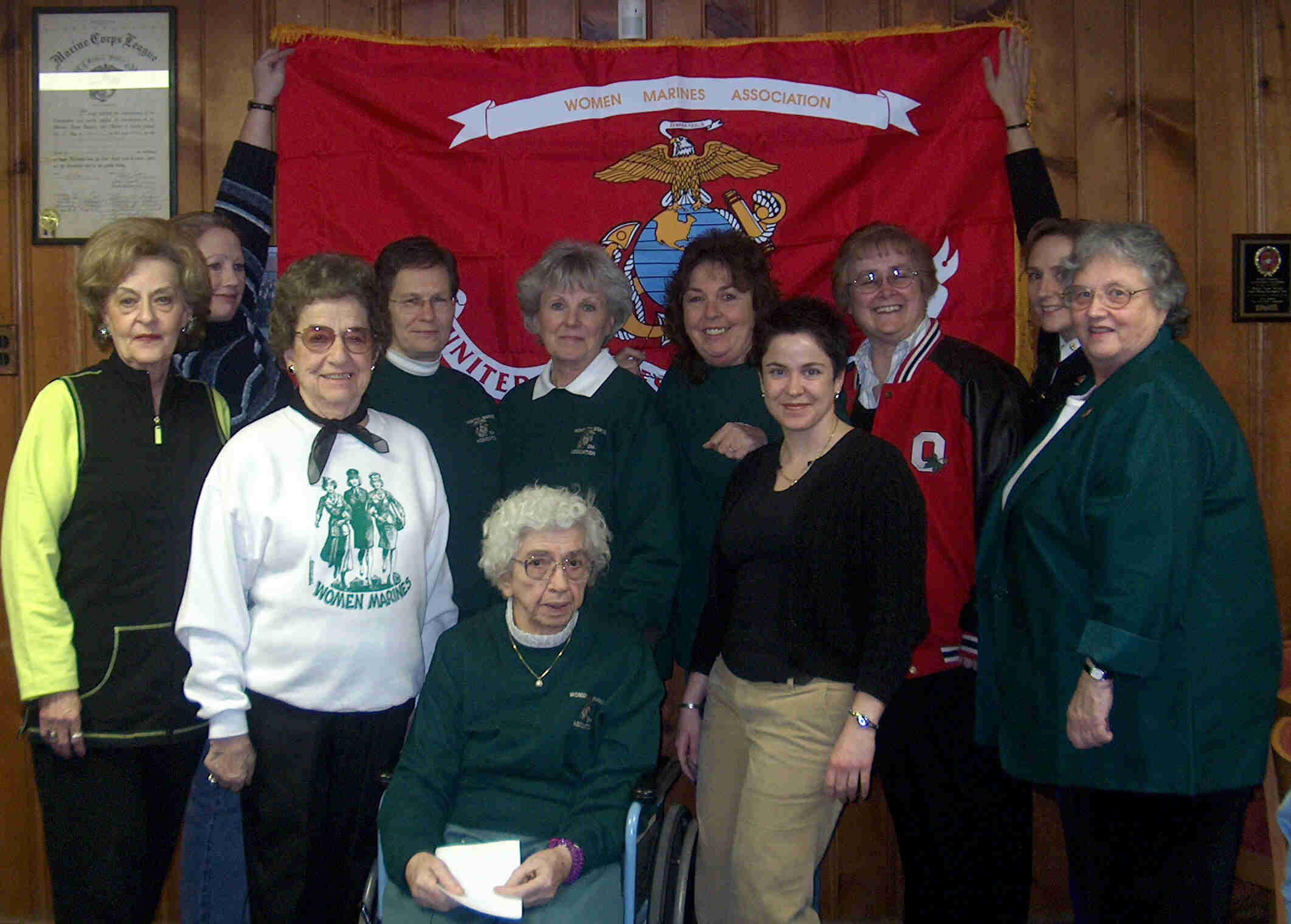 Our first meeting was held in February 2005, with 11 members present. THe meeting included a celebration of the 63rd anniversary of the founding of the Marine Corps Women's Reserve. Pictured from left to right (standing) are Bettie, Nancy, Veronica, Ellen, Lois, Sharon, Kelly, Lynette, Jenny, Elva, and (seated) Emma.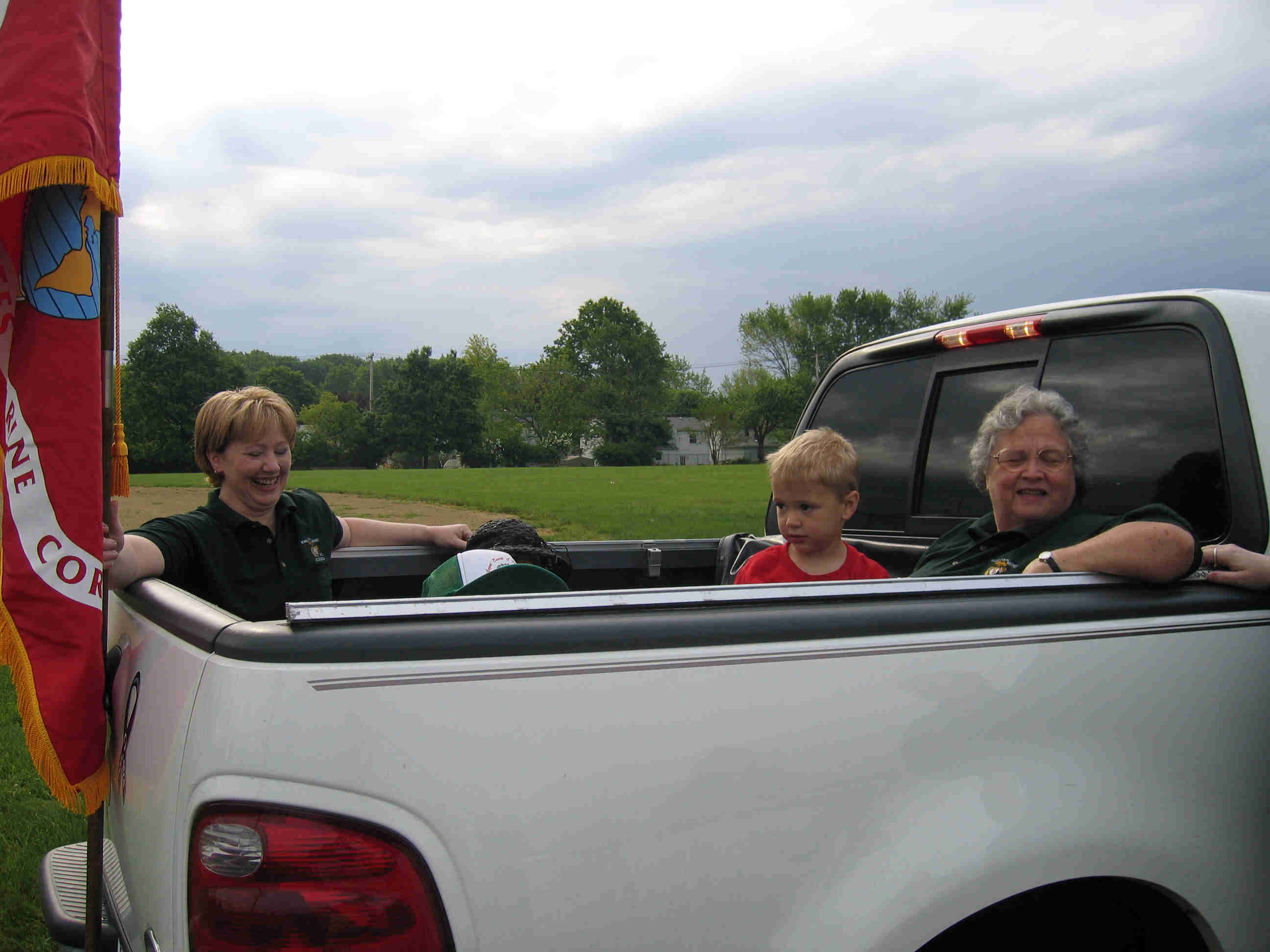 Nancy, Loyal Escort Christian and Elva traveled the Cuyahoga Falls 2005 Memorial Day Parade route in style.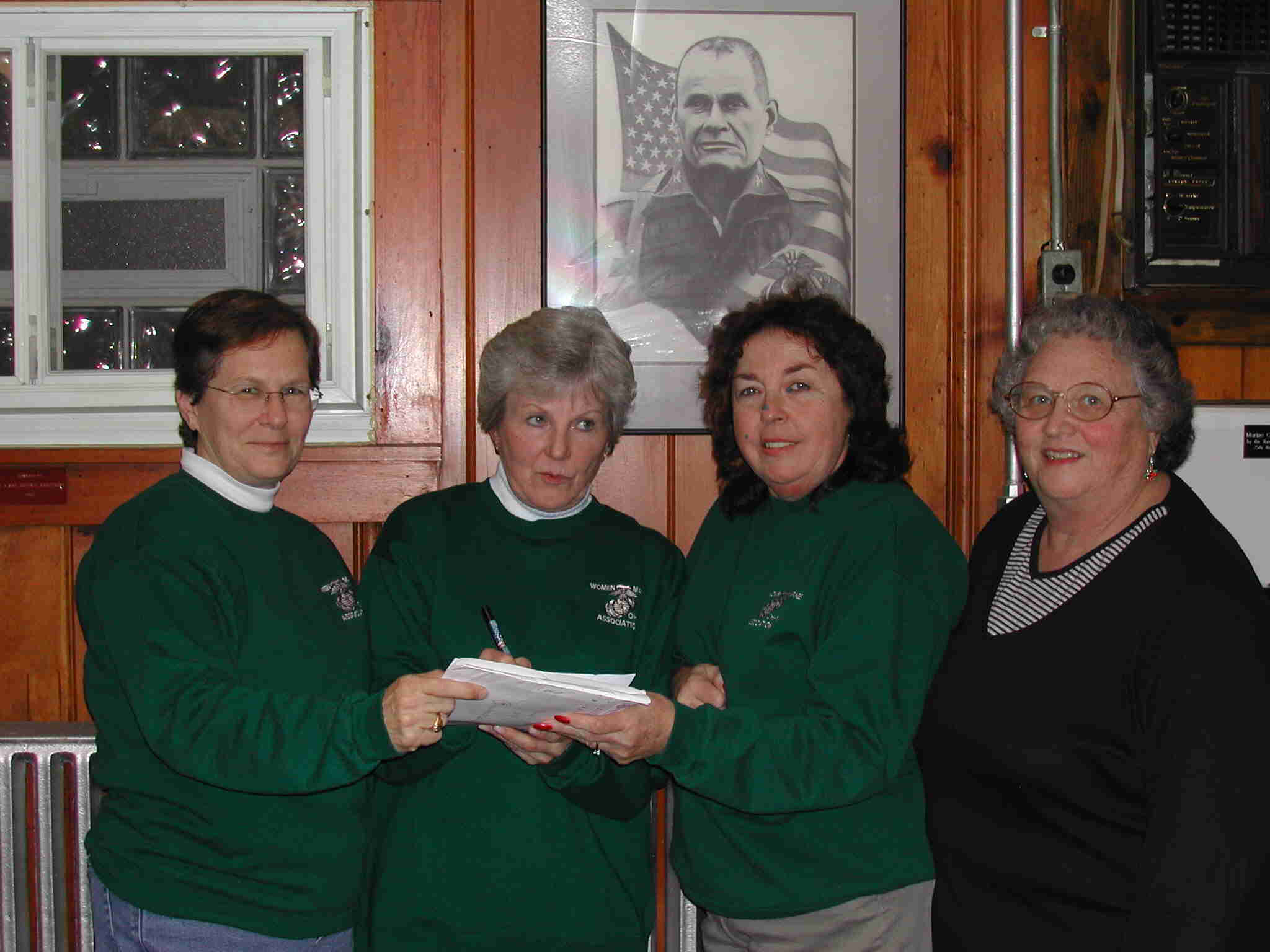 Charter members Ellen, Lois, Sharon and Elva sign the paperwork that officially brings the Chesty Puller Chapter (OH-2) of the Women Marines Association to life.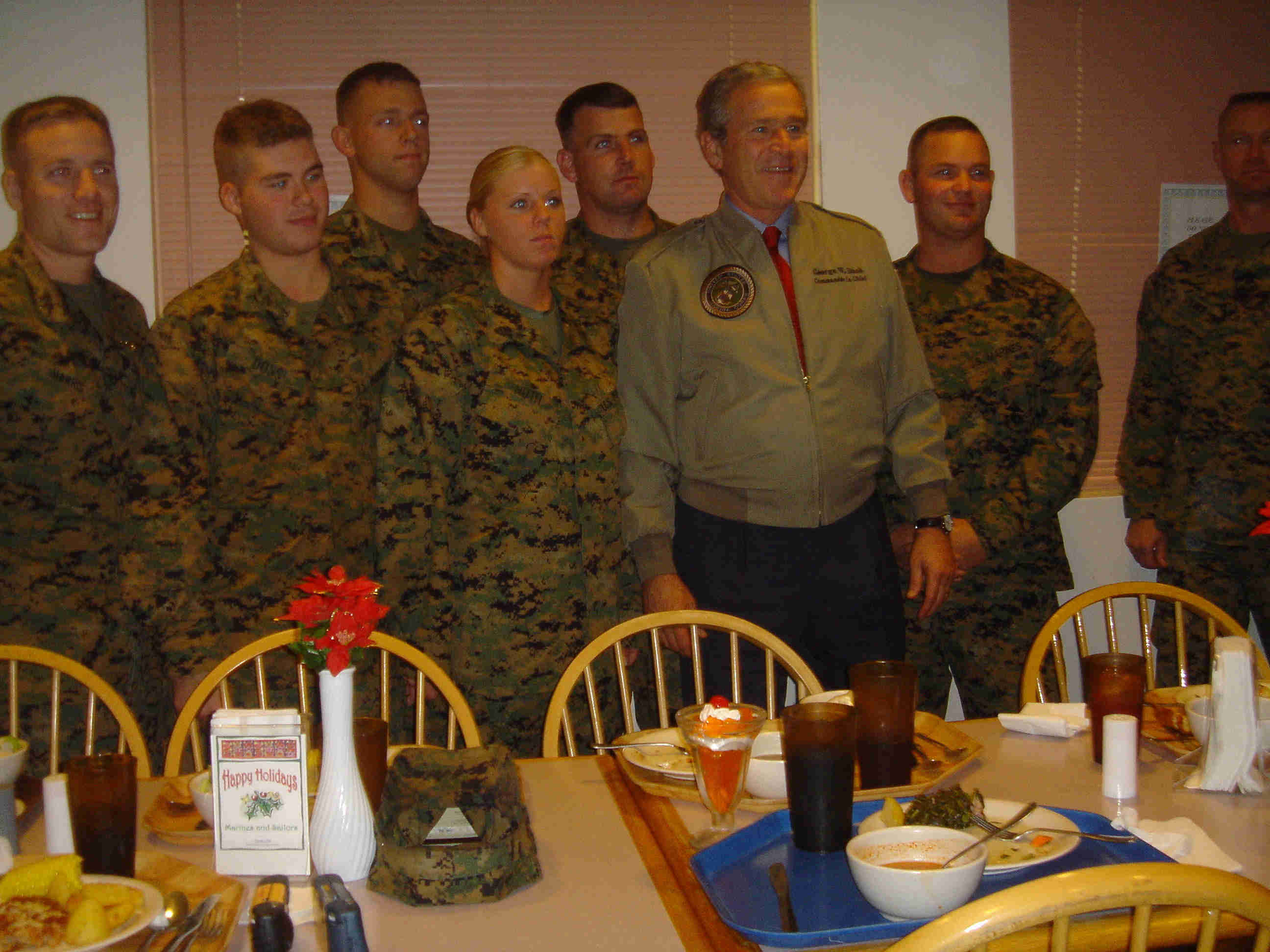 Chapter member Brandie met the Commander-in-Chief, President George W. Bush.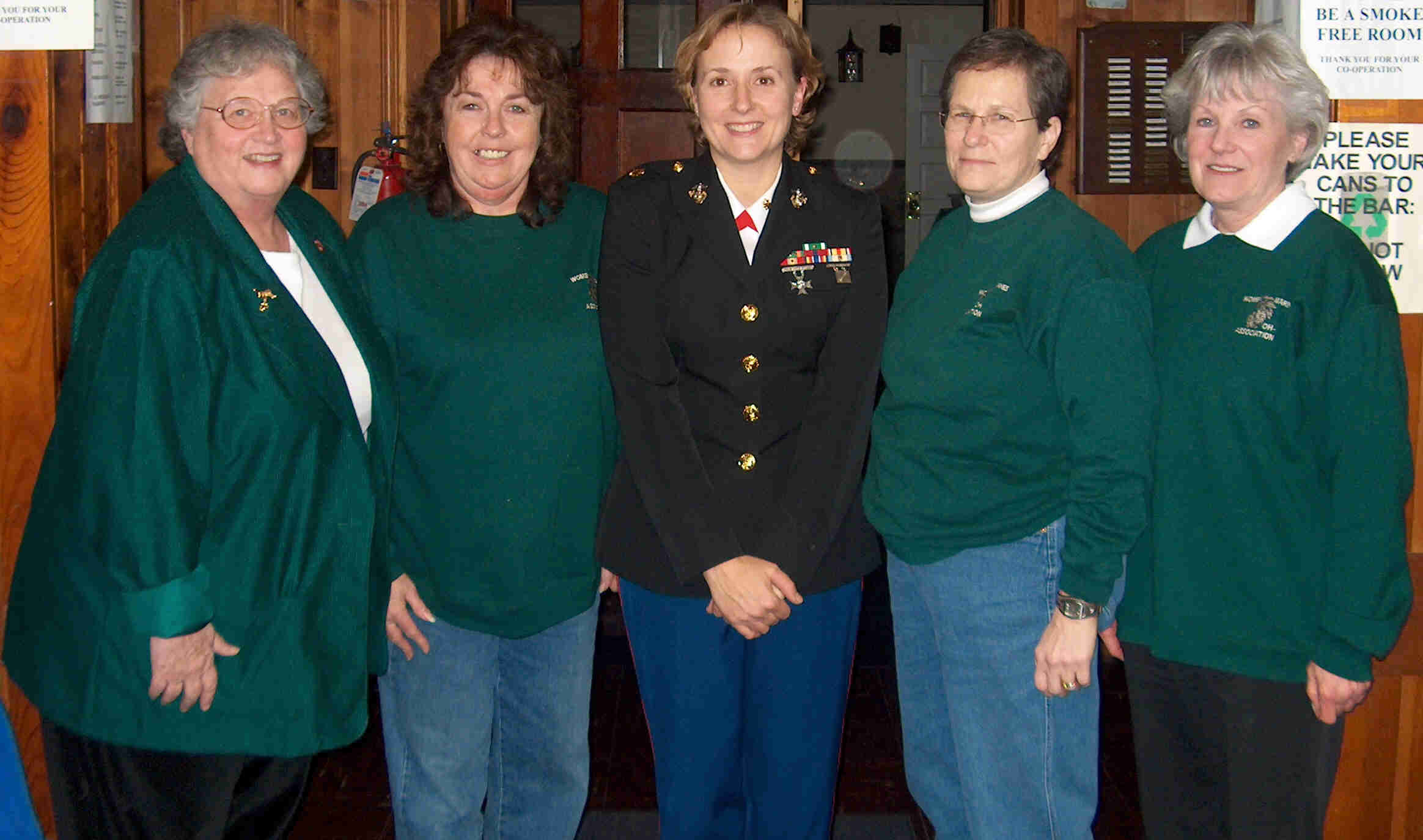 From five original charter members in January 2005, the chapter was up to 25 members in January 2006 (and counting). Pictured from left to right are: Elva, Sharon, Jenny, Ellen and Lois.